2018-01-17
Foreign Minister Elmar Mammadyarov met with Jean-Baptiste Lemoyne, Secretary of State at the Ministry of Europe and Foreign Affairs of France during his working visit to the French Republic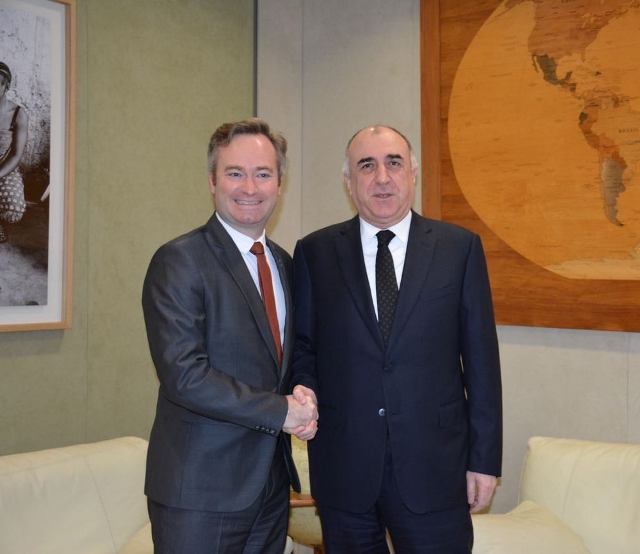 At the meeting the Ministers expressed their satisfaction with the current level of bilateral and multilateral relations between Azerbaijan and France. They highlighted the existence of vast potential for further development of relations between the countries in different spheres.

Noting the official visit paid to Azerbaijan, as the first member of newly formed French Government, the Secretary of State highly appreciated the results of the visit and the meeting with H.E. Mr Ilham Aliyev, President of the Republic of Azerbaijan.

The interlocutors exchanged views on the current status of negotiations for the settlement of the Armenia-Azerbaijan Nagorno-Karabakh conflict. Minister Elmar Mammadyarov provided thorough information on the latest negotiation process on resolution of conflict and adding that that he will meet with OSCE Minsk Group Co-Chairs and the Foreign Minister of Armenia on January 18, 2018 in Krakow, Poland.

Touching upon the facts of establishing illicit relations by some towns of France with the illegal regime established by Armenia in the occupied territories of Azerbaijan and entry of agents of puppet regime into the territory of France, Elmar Mammadyarov underlined the importance of taking necessary measures by central Government of France to prevent such ill actions.

Having reviewed the economical-trade relations between Azerbaijan and France, the sides highlighted the dynamic development of bilateral cooperation in energy, transport, subway, cosmic, industrial, agriculture, education, culture and other fields. It was also noted that more than 50 French companies operate in Azerbaija in various sectors.

Underlining the close cooperation between Azerbaijan and France in the field of education the sides noted the Joint Azerbaijani-French University as a vivid example of of this cooperation.

Touching upon Azerbaijan-European Union relations Minister Elmar Mammadyarov said that negotiations on the strategic partnership document between Azerbaijan and EU are going on and the relations develop successfully..

At the end of the meeting in the presence of Ministers "Framework Agreement on Cooperation" and "Cooperation Agreement on Financing and Dissertation" were signed between Azerbaijan National Academy of Sciences and Montpellier University. The agreements were signed by Akif Alizade, President of AMEA and Francois Henn vice-president on international relations of Montpellier University.